Weldcoa has developed equipment and controls to supply carbon dioxide to our customers in a controlled, safe manner that delivers quick ROI results. We meet our customers requirements by determining the best system design using a variety of equipment:
Bulk Storage Tanks
Pump/Vaporizer Skid Unit
Buffer Vessel Stations
Specially Designed Controls
A bulk CO2 system can feed into your current extraction equipment, drastically improving the volume and condition of the CO2 supply as well as the efficiency in your operation.
The Benefits You Will See:
Increase the Flow Rate
Increase in the Extraction Cycles
Reduce the Charging Time
Reduce Cylinder Handling and Labor
HOW IT WORKS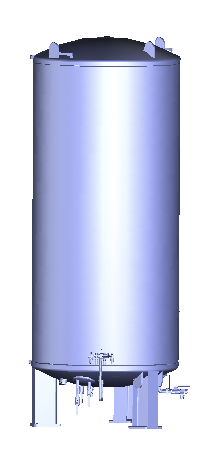 Bulk Tank or Microbullk Unit:
CO2 is stored in this unit in a Liquid Phase . Weldcoa does not manufacturer bulk tanks or microbulks however we do have a long histroy of working with tanks and have close relationships with bulk tank suppliers in the gas industry. The components that are needed for this unit in order to be compaiable with our modular skid are liquid withdrawal and gas/liquid return ports. The tank size will be determined by the extractor size and the number of cycles to be run per day.
1. CO2 product, in a Liquid Phase, is piped from the bulk tank into the Pump (which is on the skid unit) and then piped out of the Pump, in a Liquid Phase, into the Vaporizer (which is also on the skid unit).
⇓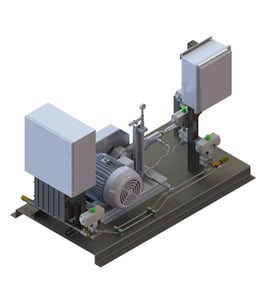 Weldcoa CO2 Modular Pump/Vaporizer Skid Unit
This system is best suited for Extraction Equipment of 40 Liters or Larger. The Skid Unit consists of a CO2 pump, automation controls, vaporizer, piping and valve assemblies all on a steel skid base. This modular unit is provided, tested, and remotely supported by Weldcoa.
2. Once in the Vaporizer, the CO2 product is converted into a Gas Phase and is then piped to the Buffer Vessel Station(s) still in a Gas Phase.
3. This process is managed and controlled by Weldcoa's automation.
⇓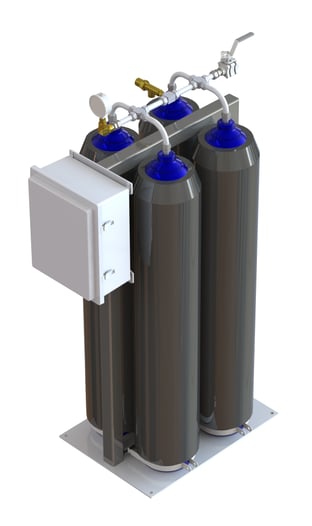 Weldcoa Buffer Vessel Stations
The number of Buffer Vessel Stations needed depends on your volume and quantity of your extraction equipment. This process is managed and controlled by Weldcoa's automation, holding the CO2 product in Gas Phase at 750 to 900 PSIG.
• One station is capable of supplying gas to extractor
equipment with capacity of 1 to 100 Liters
• Two stations are capable of supplying gas to extractor equipment of 100 to 200 Liters
• Three stations are capable of supplying gas to extractor equipment of 200 to 300 Liters
• Four stations are capable of supplying gas to extractor equipment of 300 to 400 Liters
As the client's extraction volume increases, they can easily accommodate the demand by adding another Buffer Vessel Station to increase their storage capacity.
4. From the Buffer Vessel Stations, the CO2 product, still in a Gas Phase, is piped into the Extractor inlet.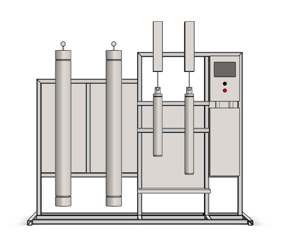 ⇓
Extraction Machine:
Typically, an Extractor consists of a Solvent Chamber(s) ranging from 2 to 400 Liters, an Expansion Chamber(s), an oil collection vessel, a CO2 gas recovery system and automated controls with an operator touchscreen terminal. None of this is provided by Weldcoa.
5. From the inlet, the CO2 product, in Gas Phase is piped into the main Solvent Chambers of the Extraction Machine where the temperature and pressure of the CO2 product is then adjusted, converting the CO2 product from a Gas Phase into a Supercritical Phase. The time it takes to fill up the Solvent Chamber and regulate it to theses specific parameters is called the "Charging Time".
6. Once the correct temperature and pressure are achieved, the system pumps the supercritical CO2 in a loop for a specific amount of time. This is called the "Looping Cycle". As the material passes through the Expansion Chamber the Supercritical CO2 coverts back into a Gas Phase, allowing the oil to decondense and drop into the oil collection vessel, providing a final product/ yield from the extraction process. When the entire cycle is complete, the CO2 gas is vented into a recovery system for reuse in the next charging cycle.
LONG-TERM SUPPORT TO KEEP YOU UP AND RUNNING
Weldcoa CO2 Modular Systems has designed the controls to operate within certain parameters that are specifically configured to assure that your CO2 supply runs at an optimal productivity level. The system is constantly self-monitoring the cryogenic pump and flow. If the system senses an error or becomes aware that it is starting to operate outside of the proper working parameters it will send out alerts. This Self Monitoring process runs 24/7/365.
REMOTE VIEWING:
Remote Viewing gives you the ability to remotely access your new W CO2 Modular System on your mobile devices or work stations and view how the system is operating in real time.
Your management team can remotely access your system and make limited

adjustment to your system in real time.
You can assign up to five employees remote access
When the "Self Monitoring" featuring sends out an "Alert" this message will go to all five of these employees. They can then remotely access the system to see what it going on or if they are at the facility they can walk up to the system and perform maintenance or adjustments.
REMOTE MONITORING:
Remote Monitoring enables Weldcoa's in house team to detect any issues that your system may be experiencing. The Weldcoa team receives the same alerts as your companies five designated employees. If required to the Weldcoa remote team can make more technical or complicated changes to your system in order to keep your operation running.
Weldcoa team receives alert alarms

Weldcoa team maintains client access for its designated employees
Weldcoa team can make remote adjustments/changes to client's system in order to keep them operational
ANNUAL SERVICE FEE:
The first year of Remote Support is included in the purchase cost of the system. Thereafter, the service requires an annual service fee. If the service is not renewed, the Remote View and Remote Monitor features will cease to function. If the client later chooses to resume the Remote Support package a Re-Start Fee and the Annual Subscription will have to be paid in full before the service recommences.
EQUIPMENT REPAIR/SERVICE:
In the event an onsite visit is required for maintenance or repair to the system, clients will be billed at Weldcoa's standard time and material fee plus travel and expenses.
CRYO PUMP MAINTENANCE:
All pump related maintenance services and repairs are handled by Nikkiso / Cryogenic Industries Service Company. The Cryogenic Industries Service Company is directly affiliated with cryogenic pump manufacturer ACD, the world's leader in the design and manufacture of cryogenic reciprocating and centrifugal pumps for over 45 years.