Maximize your equipment investments while minimizing your downtime with our digital automation solutions.
THE BENEFITS OF DIGITAL AUTOMATION ARE WIDESPREAD.
When you capitalize on the combination of our compressed gas equipment and technology, for the automation of processes that would otherwise be performed manually, you will realize significant benefits. Many aspects of your business may already be digitally automated to deliver extraordinary value. We can add even greater value with the digital automation of your gas equipment.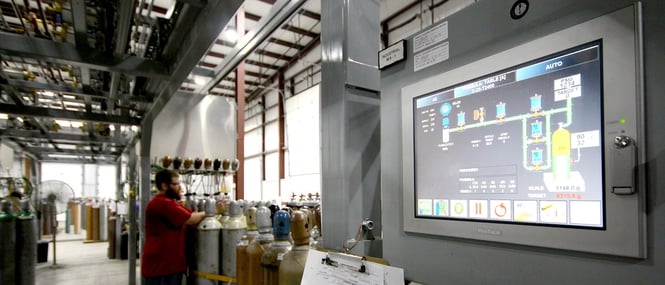 HO
W IT WORKS
Within your environment, we can provide an independent system that includes our equipment, customizable control automation and intuitive user interface to deliver a complete digital automation solution for your gas process. This system provides for the incorporation of your company's standard operating procedures (SOPs) and may be customized in many ways to provide for uniform language and information that is unique to your organization. When you implement Digital Automation, your production and your business move faster and more efficiently.
Smarter
< Optimized Equipment Performance
Digital automation optimizes performance of your equipment, maximizing production uptime and ensuring systems availability and reliability.
< Increased Performance and Reduced Costs
Two key benefits of digital automation are increased performance and reduced costs. Less labor is required throughout your gas process, allowing employees to multi-task, generating significant cost savings over time. Also, gas waste is often minimized in manufacturing environments, generating additional cost savings.
< Elevated Communication
The ability for real time communication between the office and production is realized with digital automation. All aspects and stages of production and equipment operations can be viewed and monitored anytime, from anywhere.
< Streamlined Data and Document Management
Data organization and retrieval is greatly simplified with digital automation. Accurate information moves smoothly between processes. Reporting and archiving functions are effortless, instantaneous and formatted uniformly.
< Fool-Proof User Interface
Our icon-driven, touch screen interface provides easy-to-understand structure and guidance on all automated processes, including alerts and prompts to inform your employees when their attention is required. The fool-proof system eliminates the potential for human error.
< MEASURABLE Employee Activity
The technology tracks all activity by equipment and user. You can view activity live, or generate reports that will detail operations, date/time, productivity, volume and whatever information you wish to monitor. A great tool to ensure ongoing performance improvement.
Faster
< Maximized Efficiencies
Everything is more efficient once automated. Employees are more productive, because they can manage more tasks and fill typical process transition or down times. Systems can run independently, and through more process periods, increasing production. Production set-up is automatic, allowing for jobs to start quicker. The entire production process moves faster and more efficiently.
Better
< Consistent Product Quality
Automation creates production environments that are repeatable. This repeatability provides for exceptional product accuracy and consistency.
< Improved Safety
Our software and related equipment are designed with safety in mind. They include many prompts and alarms to ensure systems are operated properly and employees are safe.
< Enhanced Training and Education
Training new employees and keeping employees informed on new methods and procedures are implemented with consistency and accuracy through the use of digital automation. All stages of training can be monitored, documented and reported for human resource and other business needs.
< Fully CUSTOMIZABLE
Our technology is fully customizable, allowing you to integrate labels and language that are unique to your organization, and to generate consistent reports across your organization. Rest assured that your SOPs will be automatically followed when integrated into our system, ensuring consistency and reducing liability. Many companies enjoy a more unified and consistent set of SOPs, once they implement digital automation.
< Increased Value to Your Customers
When you provide your customers with the highest quality, most consistent products, in a very efficient manner, you will be highly-valued.
If Your Business Involves the Use of Gases, You Can Automate It.
Weldcoa offers comprehensive Digital Automation systems for any company that uses gases in the production of their products. And we do this on a regular basis.
Our independent system combines our time-tested equipment and proven automated controls. Together they deliver the highest level of value to your production environment and your business.
Many of our gas systems are available as independent plug and play solutions that can have you up and running quickly, and enjoying all of the benefits of automation. Our patented digital automation solutions apply to many industries and have countless applications.
Put Our Digital Automation Expertise to Work for You.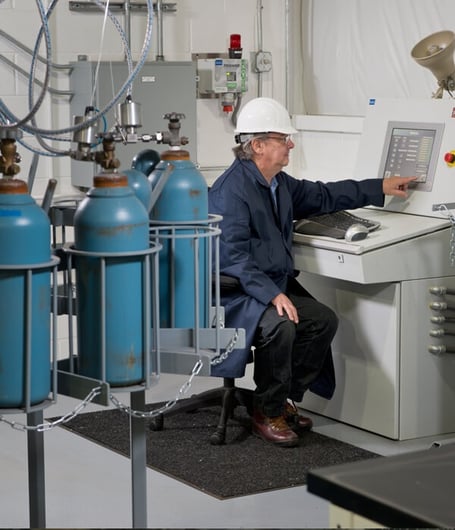 Weldcoa has been delivering Digital Automation solutions for over 35+ years. We're proven problem solvers with vast experience in the automation of processes that incorporate compressed gases. The solutions we provide will perform as they are intended to do. Our team takes the time to understand your manufacturing environment and design a solution that meets, and often exceeds, the objectives.
You can depend on our gas equipment automation.
When you choose to automate your gas systems with Weldcoa you can rest assured that you will be investing in the most dependable automation in the market today.
"Weldcoa clearly offered us the best technology package. Their process controls and automation are top-notch. They remain at the forefront of the industry."

- Jeff Leist, Project Manager for Linde