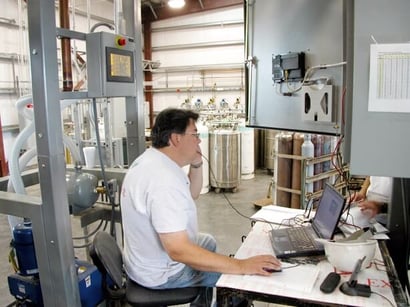 Installation and Start-Up
Once the equipments arrives, Weldcoa can either perform

or supervise the installation and/or start-up
Installation and start-up are often two distinct different activities. Installation of Weldcoa's
equipment can be performed in one of four ways with varying levels of involvement:
Weldcoa's in-house installation team travels to your facility and handles the entire process. This
 may include overseeing off-loading of equipment
from delivery vehicles, positioning, anchoring,
and assembly of equipment. (Service cost: Time, Material and Expenses)
Weldcoa sends a supervisor to oversee your team. This may include overseeing the following processes – off-loading of equipment from delivery vehicles, positioning, anchoring, and assembly of equipment. (Service cost: Time, Material and Expenses)
Weldcoa recommends an experienced third-party install team that has experience working with Weldcoa. (Service cost: Negotiate directly with third party.)
Your team takes the responsibility for performing the entire installation process.
Once installation is completed, all electrical and piping must be completed before start-up. This will need to be managed and handled by a third-party contractor of the clients' choice.
Start-up is always performed by Weldcoa. A team arrives on the scene once all electrical and pipe runs are complete. Our team will run through a pre-start checklist to make sure, for example, that the lines have been properly oxygen cleaned, that final electrical connections were performed properly and to spec, and to double inspect the equipment to make sure nothing has been damaged or altered prior to start-up. Once the checklist is complete, the start-up team will initiate formal start-up procedures. Once the equipment is up-and- running, our team will train your staff, perform handover procedure, and exit your property. (Service cost: Time, Material and Expenses.)
Note: All the Island Gas Piping, Control Air, and Valve installation work is done at Weldcoa prior to delivery.
The Weldcoa team didn't leave here until they were sure we were comfortable with the equipment, and even now, long after the training has been completed, Weldcoa continues to respond to our phone calls and e-mail requests for support."

Steve Hodges, Project Manager for B & J Welding Supply, Inc.
Weldcoa's on-site tech team also had to customize the PASS startup screen, making it much more user friendly to meet our unique requirements. That enables us, as we grow and add operators, to train them quickly on how to use the PASS system. The entire project became incredibly complex and demanding, and Weldcoa's team never blinked. They took on a lot of extra work to ultimately save us a lot of time down the road. That level of flexibility and professionalism is what makes them a top-class organization."

Derek Piwonski,Specialty Gas Plant Supervisor/Chemist for Linde North America
Without fail, Weldcoa comes through when we need them, from design to installation to support. We consider Weldcoa part of our family, part of our team— a necessary partner as we look to continue to support our customers with timely delivery of high-quality products."

Sonny Knotts, Manager of Operations and Production for Norco, Inc.
Their level of experience was unbelievable; their depth of knowledge and technical abilities was deeper and wider than everyone else we talked to. Competitors were not near the same level."

Ken Goicoechea, Plant Manager of the new Boise Fill Facility for Norco, Inc.
Coordinating the decommissioning and installing of the new equipment without interrupting the service level to our customers was very important to us. When Weldcoa said it could be done, we trusted them to make it happen – and they did."

Randy McBride, Operations Manager for Oxarc, Inc.
Everything Weldcoa has done, from project planning to implementation, has exceeded our expectations. Their team filled 800 cylinders to make sure everything worked, running every recipe through the system, over and over...tremendous."

Tom Elliott, Owner of A-OX Welding Supply Co.
We've experienced complete success and satisfaction with this project, directly attributable to Weldcoa being able to deliver on what they promised, and their ability to adapt to our unique needs."

Jim Weiler, Co-Owner of Weiler Welding Company, Inc.