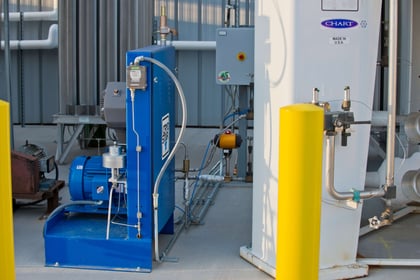 Long Term Support
Weldcoa's Remote Monitoring Program provides 24/7 365 days
a year constant monitoring of pumping equipment
Remote Monitoring is an option for most of our Automated Solutions. We also offer several
options for Remote Pumping Equipment that can be installed at your customer's location. This option gives you a new tool for supporting your clients at a much higher level of customer
service than previously possible.
When we looked at Weldcoa's system and compared it to others in the market, we all found it to be extremely impressive, in particular the ability to provide service using remote diagnostics. Their technicians can receive instant notification of any messages from the equipment and access our control systems to diagnose and address issues. Downtime is practically eliminated, and the customers don't experience any delays. While these instances are few and far between the ability to address them quickly and flawlessly sets Weldcoa apart from the others."

Pat Dalton, Operations Manager for WestAir Gas & Equipment, Inc.
"Their remote monitoring service has been invaluable. It makes Weldcoa a true partner and part of our family – committed as much as we are to making the facility excel."

Sonny Knotts, Manager of Operations and Production for Norco, Inc.
Since the island was commissioned, whenever we pick up the phone for support, within a few minutes we're talking to the person that either programmed the equipment, designed the equipment or installed the equipment."

Mike Zeilman,Sales/Operations Manager for S.J. Smith Company
We know that Weldcoa is constantly watching over us. Their remote monitoring and troubleshooting proves extremely valuable. They've called and alerted us to issues before we even knew about them. Now that's good service."

Mike Schwarz, Plant Manager for A-OX Welding Supply Co.
Weldcoa's on-site tech team also had to customize the PASS startup screen, making it much more user friendly to meet our unique requirements. That enables us, as we grow and add operators, to train them quickly on how to use the PASS system. The entire project became incredibly complex and demanding, and Weldcoa's team never blinked. They took on a lot of extra work to ultimately save us a lot of time down the road. That level of flexibility and professionalism is what makes them a top-class organization."

Derek Piwonski, Specialty Gas Plant Supervisor/Chemist for Linde North America
Without fail, Weldcoa comes through when we need them, from design to installation to support. We consider Weldcoa part of our family, part of our team— a necessary partner as we look to continue to support our customers with timely delivery of high-quality products."

Sonny Knotts, Manager of Operations and Production for Norco, Inc.
Their level of experience was unbelievable; their depth of knowledge and technical abilities was deeper and wider than everyone else we talked to. Competitors were not near the same level."

Ken Goicoechea, Plant Manager of the new Boise Fill Facility for Norco, Inc.


Precision Universtiy is a long-term support service
for continuing education.
Precision University is a service provided by Precision Specialty Gas Products, a Weldcoa Company, in partnership with AsteRisk. AsteRisk's President Tom Badstubner is well known in the industry as an expert in Specialty Gases and is GAWDA's FDA Food and Medical Gases and Specialty Gases Consultant.
Precision offers classes that our clients and their employees can attend multiple times per year. Precision University develops skill sets in specialty gas filling through both classroom and hands-on instruction. The programs focus on all aspects of specialty gas filling and testing. Basic and advanced seminars are available. Participants in the programs can receive certification in Specialty Gas Mixing and Gas Chromatography.