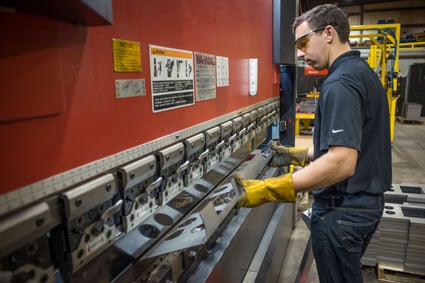 Manufacturing
Weldcoa is a true US Manufacturer
The manufacturing facility, located at 335 East Sullivan Road, is where we perform all our steel fabrication and welding, assembly, manifolds and lead production, cleaning and testing, main assembly and inspection.
Our main administrative office is also located in this building, which houses Weldcoa's engineering, customer service, marketing, and executive teams. The 335 location sits on five
acres of land, has 38,500 SQFT under roof, and has several unique attributes, including:
Robotic welders manufacture all of our pallets in order to guarantee the highest level of quality and consistency.
Top-of-the line Metal Working, Cutting and Forming equipment streamline our production.
Weldcoa receives 1-2 truckloads of steel a day to keep up with the demand of our 24 hour production runs.
Custom manufacturing and welding work cell stations
Custom manifold brazing room
Lead assembly area
Testing and cleaning area
Three 10-ton cranes
20% of our employees have been working with Weldcoa for over two decades
3% of our employees have been with the company for over three decades.
All of our products and automation are made in Aurora, Illinois USA
Weldcoa is also a Post-Sintered Lead Manufacturer. Post-Sintering is a process that greatly reduces effusion of gases through the lead material. (Effusion= leaking) All of our competitors only "assemble leads." This means they buy their braided lead material, from a third party, and then assemble the leads at their facility. As a manufacturer of Post-Sintered leads, Weldcoa is the only provider who keeps raw material in stock and can assemble at will. This means quick turn around on leads, the best possible quality control and a highly trained staff that can assist you in choosing the right lead material for the job. All of our flexible leads are Post-Sintered, inspected, and then braided. Flexible Leads are then assembled, hydrostatic tested, nitrogen leak tested and then oxygen cleaned – all proudly by Weldcoa at Weldcoa.
We talked to a lot of very smart people who we respected that had gone through this process before, and the one name that kept popping up over and over again was Weldcoa's. Westair in California, in particular, had just finished a project similar to ours with Weldcoa and could not say enough good things about the experience."

Ned Pontious, Presdient of Norco, Inc.
We set the bar very high when we specified the fill island's performance requirements and Weldcoa came through. I doubt we'll ever face production-capacity issues again, at least for the foreseeable future."

Kevin Kimker, Director of Gas Operations at Cee Kay
"The new plant is making money, and when combined with the support and expertise we get by having Weldcoa as a partner, we feel that we really got a gem."

Eddie Mah, General Manager for Weldworld
We have a reputation for being the expensive guy. But when distributors do the short and long term analysis we always come out as the better value. Our products work right out of the box and they work well for a very long time - we guarantee it."

Hector Villarreal, President of Weldcoa