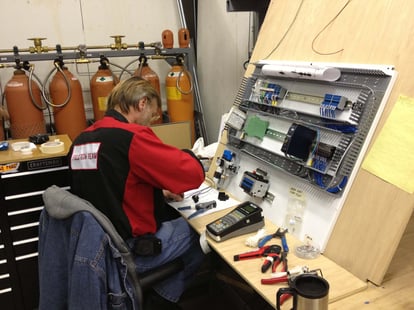 In-House Automation Team
Advanced, Efficient and Reliable - Nothing but the Best
The automation facility, located at 338 East Sullivan Road, is where we perform all electrical production, automation development, research and product development, specialty gas filling,
and training.
Weldcoa's Precision Specialty Gas Products is also based at this facility. This 18,500 SQFT facility
has several unique attributes, including:
A fully functioning Specialty Gas Cylinder Filling Facility that includes Cylinder Prep,
Specialty Gas Filling Equipment (both manual and automated), Post-Fill Process Equipment and a fully functioning Analytical Lab. This area is known as Precision University and it's
where students travel from all over the world to train, at all levels, of filling specialty gases. 

A UL Certified facility where Weldcoa builds and wires all its own automated control panels in-house in order to provide consistent quality, fit and finish for our clients. Several times a year, UL inspectors audit the facility to assure the quality of our in-house designed and built electronic equipment.
Weldcoa's Leading History with Automated Filling
First in the market using electronics. Started in 1995-1996
First in the market to introduce cryogenic pump protection automation
First in the market to control pump speed from the filling process
First in the market to control a pump's speed from the temperature of the cylinders combined with scale data or the pressure transducer data
First in the market to install an automated gravimetric and temperature compensated filling system (System still operatting in Marinette, Wisconsin)
First in the market to combine a queued multiple filling process with both pressure temperature compensated filling and gravimetric filling
We continue to work with Weldcoa primarily for their experience and expertise with automation. We've found their systems to be extremely reliable. And, we really appreciate how Weldcoa can monitor their systems remotely, and identify and correct any issues in a timely fashion—often before our local guys know there are issues."

John Rogstad, COO for Gas and Supply
We did a lot of research. Weldcoa listened to what we wanted and came up with an affordable package that allowed us to do automated filling. We knew automation was available, but it had been cost-prohibitive in the past."

Fred Seminik, General Manager of American Welding & Gas
The accuracy and efficiency of our new automated fill island and lab has enabled us to expand into the beverage and specialty gas markets with great confidence and immediate success."

Jim Weiler, Co-Owner of Weiler Welding Company, Inc.
With Weldcoa's automated setup, variability is completely removed. We get consistent product down to the gram level. In the challenging biotech market, that's critical."

Austin Romesberg, Vice President of Operations for WestAir Gases & Equipment
Being customer-driven and known for our quick response to customer requirements, we believed it was time to invest in a new, state-of-the-art automated fill island. Now, our completely modernized fill operations have optimized consistency, accuracy and purity for our customers.""

Kevin Kimker, Director of Gas Operations at Cee Kay Supply, Inc.