Palletized Truck Body Systems
For those who want to move cylinders efficiently
Weldcoa's Insta-Load Pallet System™ is a custom truck body frame loaded with Sur-Loc™ pallets designed specifically to move more cylinders faster and with less handling. The net outcome is an increase in your production and a decrease in your labor costs. All of Weldcoa's truck bodies are manufactured out of structural steel tubing. They are manufactured in Weldcoa's facility and can be shipped anywhere in the world. The truck bodies can be installed quickly and are secured onto the chassis using U bolts and wood firing strips. Historically, the average Weldcoa truck body will outlive a chassis 3 times over. In each case, the palletized body is simply transferred over to the new chassis.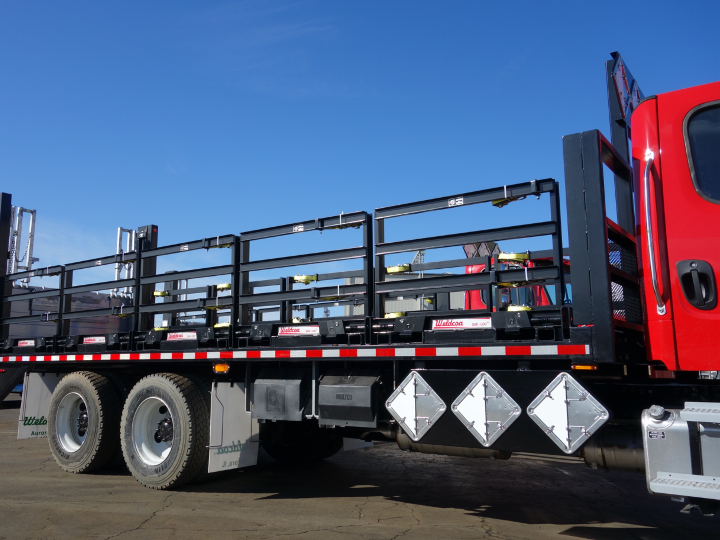 Weldcoa is the recognized leader in independent manufacturing of Palletized Systems. For over 50 years Weldcoa has developed material handling equipment to aid distributors in the Gases and Welding Industry. Weldcoa's Palletized System is used from Coast to Coast in the United States, Canada, Mexico and in other countries throughout the world.
The Benefits of Using a Weldcoa Pallet Fill System
Cylinder Handling is Significantly Reduced

Quality and Safety is Increased

Measurable Employee Productivity is Increased

The Effective Use of Labor and Time Management is Increased

Organization and Utilization of Capitol Investments is increased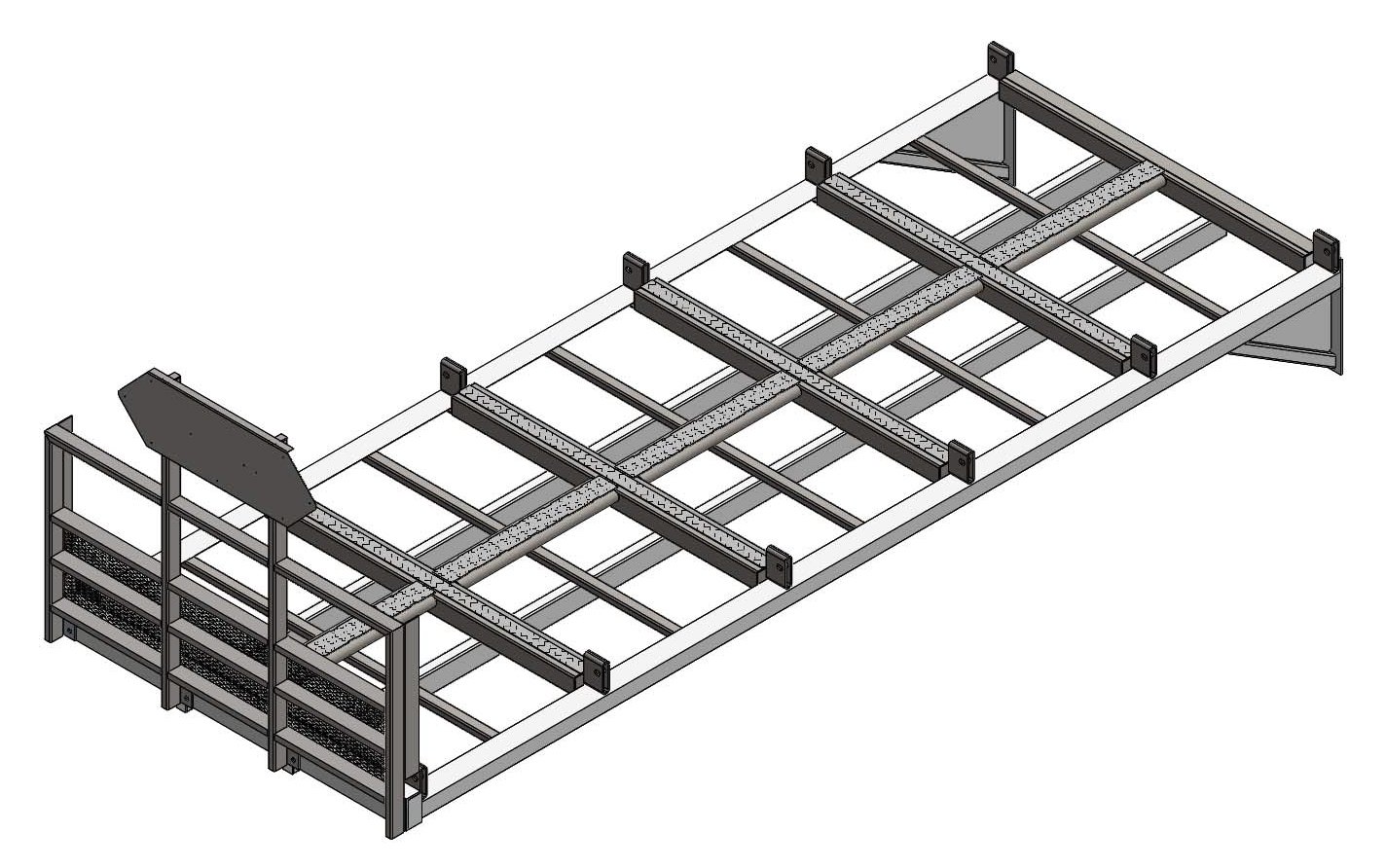 Sur-Loc™ Truck Body Frame Options Available:
4-Pallet Bay Truck Body
6-Pallet Bay Truck Body
8-Pallet Bay Truck Body
10-Pallet Bay Truck Body (shown above)
Take Advantage of a Palletized Process
Our exclusive, patented filling, storage and transportation solutions provide cost reduction innovations for every step of your process, while still providing unmatched levels of reliability and safety. Weldcoa's patented compressed gas cylinder transportation and securement system meets or exceeds all government-mandated requirements. Within the US our system is in compliance with 49 CFR 393.102 and 49 CFR 177.840.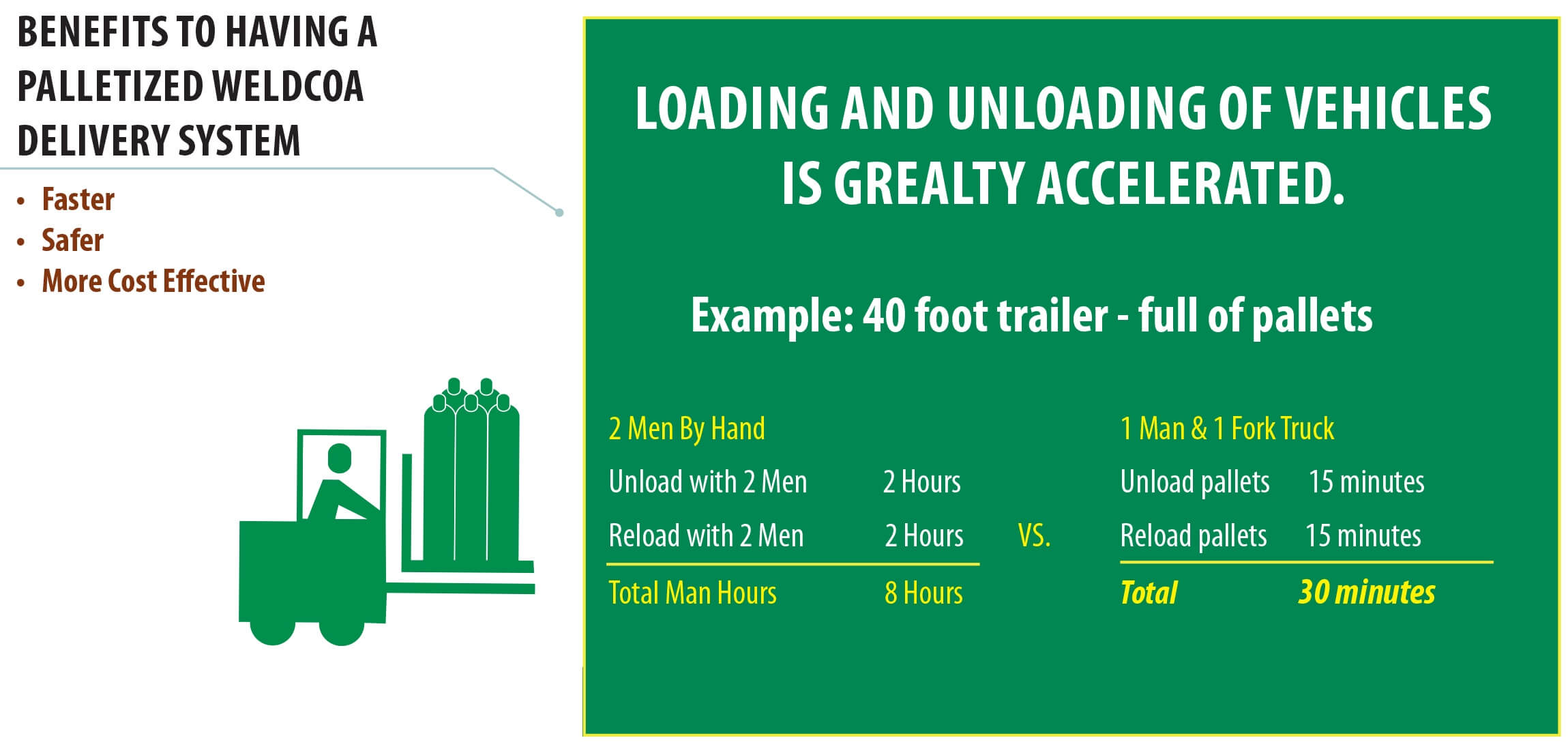 Sur-Loc™ Pallets for our Palletized Truck Body Frames
The Founder of Weldcoa, Richard Bennett, invented the Sur-Loc™ Pallet in the late 1960's. Since that time the Weldcoa Palletized Process has evolved from an external delivery system, through the use of pallet trucks and trailers, to an internal material handling system that can include two-tiered storage and manual or automated gas-filling systems.
Our Sur-Loc™ pallets are the strongest pallets in the industry. They're manufactured in the USA by robotic welders to ensure precision. Weldcoa's proven Sur-Loc™ pallet system is one of the only systems that mechanically locks onto the transportation structure. If the entire truck/trailer structure rotated 180˚, the pallets would remain locked onto the frame. Our locking system has evolved over the years and complies with Federal DOT regulations 49 CFR 393.102 & CFR 177.840.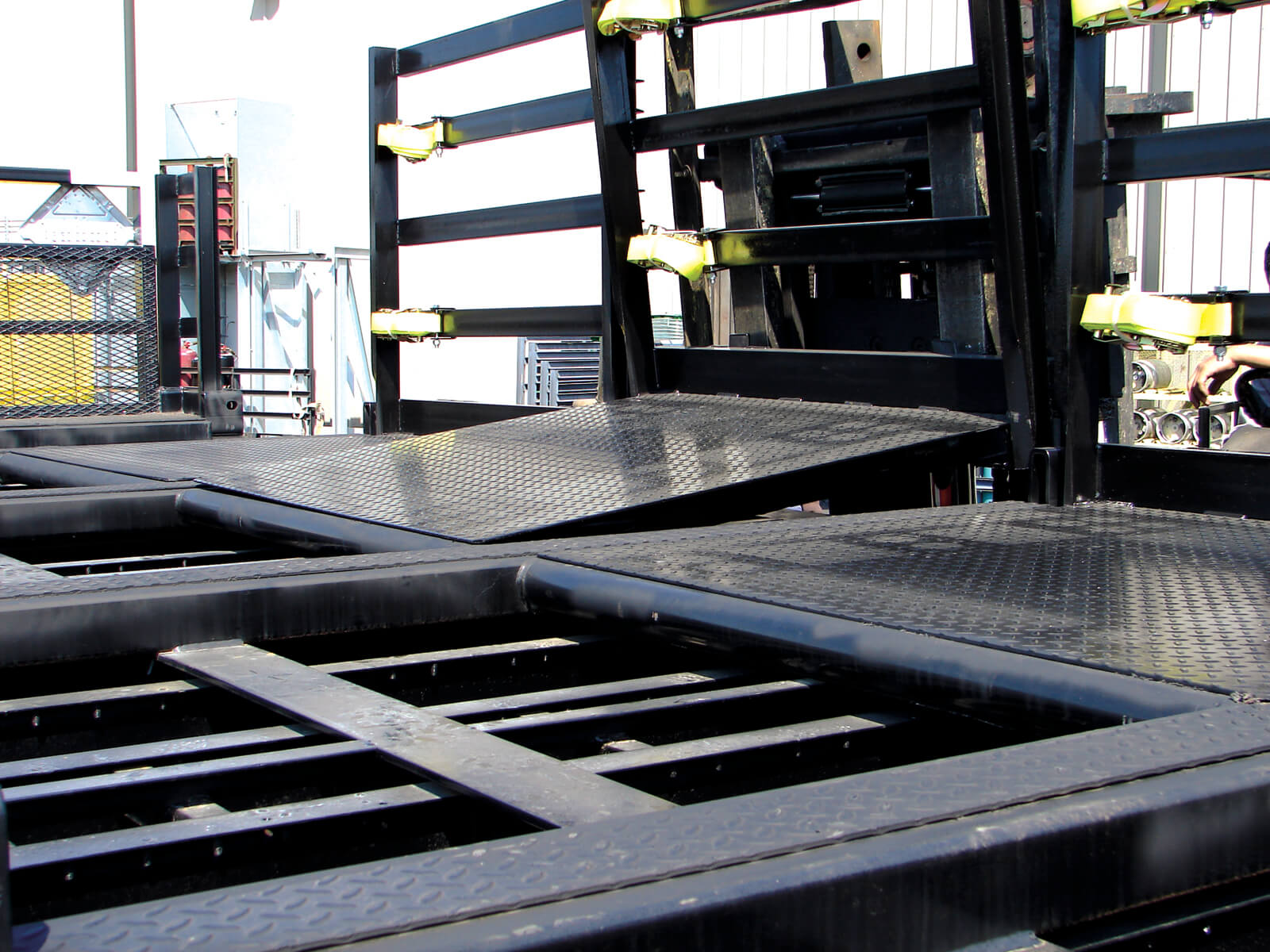 For more information on pallet options, click here